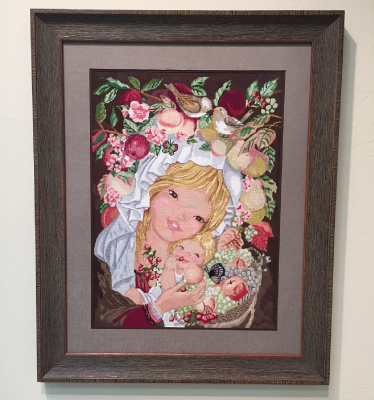 We pride ourselves in being Southwest Florida's Needlework & Needlepoint Framing Experts! All needlework is framed in house and to conservation standards.
Great care is taken of each piece, whether it requires blocking or lacing or if it needs a requirement beyond the norm. All of these measures are followed prior to the actual framing and great care is taken to ensure that your needlework is handled with the utmost care. ​Your needlepoint is blocked and then mounted onto an acid free surface, no corners are cut and no step is forgotten, it is done to the highest of standards.
Needlework pieces such as cross stitch and embroidery are laced or pinned and mounted onto an acid free board. No tapes or glues are used in the framing process.
Only acid free mats and backing are used, and if glass is a preferred choice for your piece, a UV protected Conservation Clear or Museum Glass is chosen. When glass is used spacers are placed between the glass and the piece ensuring the glass never touches your work. We follow all the correct measures to ensure your piece is safe and framed to conservation standards.